The James R. Record Aquarium was closed in mid-January 2002. The variety within the fish collection, the dedication and expertise of the aquarium staff, and the central location of the Aquarium all made the aquarium an outstanding resource for Fort Worth students of all ages. Thanks to all the members of the aquarium staff, who have offered hundreds of hours of fish tours, answered thousands of questions and have generously offered their assistance to Wesleyan students. We will miss the aquarium very much.
No aquarium can display more than a small fraction of the more than 20,000 species of fish that swim the world's waters (and occasionally get out onto land), but the James R. Record Aquarium provided a splendid sampling of the dazzling diversity of the fish. WhoZoo has been happy to share the wonders of the aquarium with other students around the world via the WWW. WhoZoo will continue to maintain the fish species pages and to add new species accounts for those species represented in the WhoZoo fish image archives.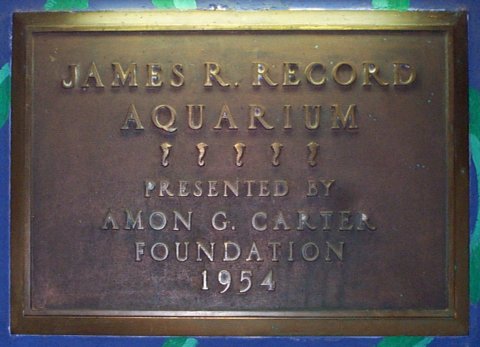 The aquarium was housed in one of the oldest facilities on the zoo grounds. The building would have needed extensive renovation to make upgrades necessary for maintaining the exhibit and animal care spaces. The fish and other animals now in the aquarium have been moved either to other areas in the zoo or to other institutions. The old herpetarium, also in need of renovation, will be replaced by a new herpetarium to be constructed on the current site of the aquarium.
We hope to see a new aquarium in Fort Worth soon. If you live in Fort Worth and would support the construction of a new aquarium, you can write to your Fort Worth City Council Representative at the link below.
Fort Worth City Council
News Report from the Fort Worth Star Telegram