Special anatomical, physiological or behavioral adaptations: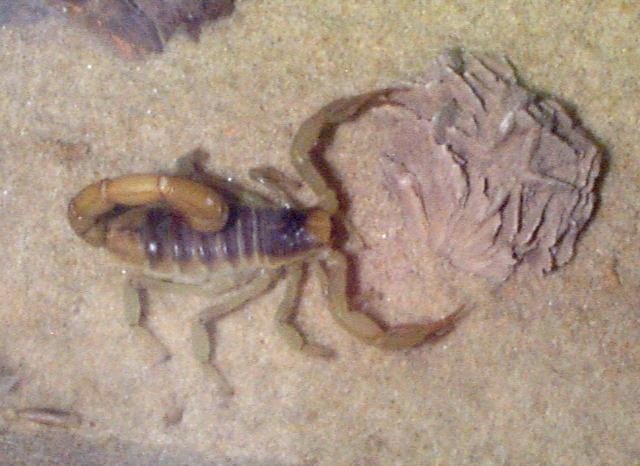 Scorpions have a protective outer covering over their body. This structure, called the carapace, is secreted by their epidermis and is consisted of a polysaccharide called chitin. This exoskeleton is durable and somewhat flexible, giving scorpions protection without hampering their movement. The body is made up of two segments, the cephalothorax and the abdomen. At the conclusion of the abdomen a new structure begins to take form; this is the telson. This is commonly called the tail and is composed of 5 segments which contain the venom glands. The creatures included in the sub-phylum Chelicerata with scorpions are: spiders, horseshoe crabs, ticks and mites. The term chelicerata describes special adaptations used by these organisms when feeding. Chelicera are spiny, masticatory processes that are used to help break down food on its way to the mouth.
Another interesting property of scorpions is that they fluoresce blue-green under black light. The use to which the scorpion itself puts this property is unknown, but it is a property of all scorpion species. Fluorescence appears shortly after the scorpion molts and intensifies as the new cuticle hardens. The fluorescence is seen even in dead scorpions, so it seems to be a permanent part of the cuticle.