Special anatomical, physiological
or behavioral adaptations:
From above, the dappling and coloration of the coast allows for the ocelot to be hiden in brush and shrubs away from predators. Being nocturnal in nature, it allows them to hide during the day safely so they may hunt and play at night.
Ocelots have retractable claws, like most cats, so that the claws can remain sharp for both seizing and holding prey. They have large eyes with acute binocular vision, and good night vision, which is adapted for hunting. Even though the ocelot's ears are relatively short, their hearing is excellent.
When hunting, the ocelot moves quickly and quietly through the brush, stalking its prey until it is right on top of it. Ocasionally, the ocelot stalks its prey in trees, but they do most of their hunting on the ground. Ocelots are strong swimmers, however like most cats, they do not enter the water readily.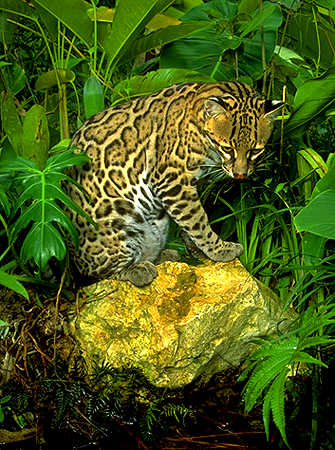 Copyright 2001 Tony Rath Photography
All Rights Reserved trphoto.com