CENTRAL AMERICAN RIVER TURTLE
Name: Central American River Turtle
Scientific name:
Dermatemys mawii
Range: Belize to Guatemala and Mexico (not found in the Yucatan)
Habitat: Clear rivers and lakes
Status: Endangered (Vulnerable)
Diet in the wild: Aquatic vegetation, fallen leaves and fruit
Diet in the zoo: typical grocery store produce (vegetables)
Location in the zoo: Herpetarium (Just Chillin' w/ the other turtles and some snakes)
Physical description: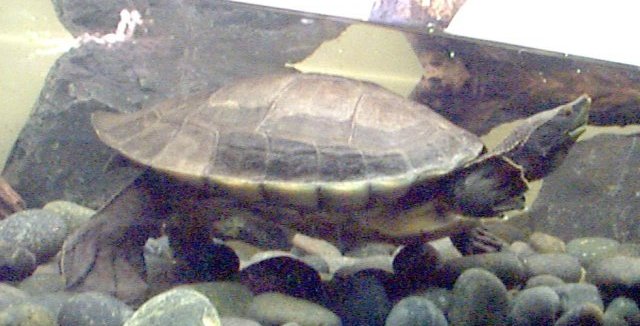 Length: up to 24 inches (60 c.m.)
Weight: up to 50 lbs. (22 k.g.)
Central American River Turtle has large webbed feet and a smooth shell
Largest freshwater turtle in its range
A small head with a pointed snout and large nostrils
Males : have golden-yellow patch on head
Females and juveniles : have grayish heads
General information: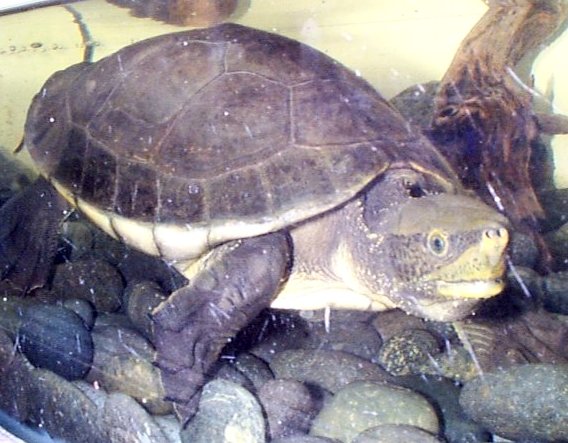 They do not bask on logs or river banks like other freshwater turtles, their webbed feet create awkward movement on land.
Bask by floating on the water and can stay submerged for long periods.
Most aquatic of freshwater turtles.
Primarily nocturnal.
Otters are regular predators.
They nest twice a year in the flood season, April and December, when the water level has risen.
The female digs a hole in the mud ( sand and clay as well ) near the water's edge and lays her eggs there.
Each clutch can contain 6 to 26 hard-shelled eggs.
While building the nest, the female will drink water regularly to prevent the walls from crumbiling and to ensure that they stay moist.
Special anatomical, physiological or behavioral adaptations:

Found in large open rivers and permanent lakes.
Prefer clear water (not found in seasonal or temporary ponds).
Tolerates brackish water.
Very easy to catch .
Meat and eggs are valued very highly.
Hunted for food and for sport.
Comments about the Central American River Turtle at Fort Worth Zoo:
The turtle seems to be very laid back. He reminds me of someone I know. :-)
Personal Observations:
The one I saw just laid around doing nothing. He probably was more active at night since he is nocturnal.

WhoZoo Home
Reptiles and Amphibians at the Fort Worth Zoo