General information: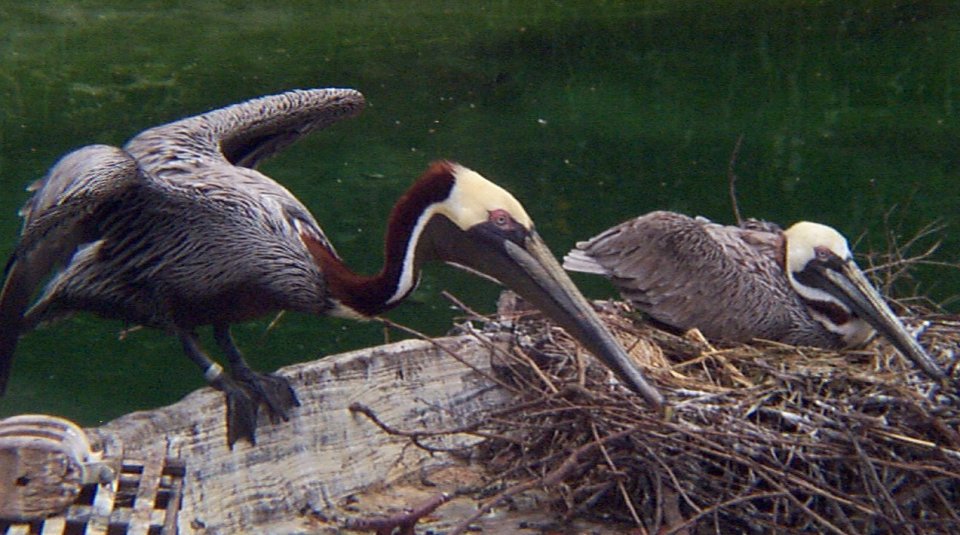 Nesting brown pelicans showing breeding plumage.
Brown pelicans feed in shallow coastal waters, usually within 20 miles of shore.   They are  never spotted inland.  Brown pelicans dive for their meals in the water, feeding mostly on middle-sized fish.  They will also eat small fish, like anchovies, invertebrates, and food scraps dropped by humans. 
Pelicans can form flocks that contain both males and females. Pelicans in flight may be confused with  cranes, but the pelican's neck is not extended, but is folded back to rest on the back. 
---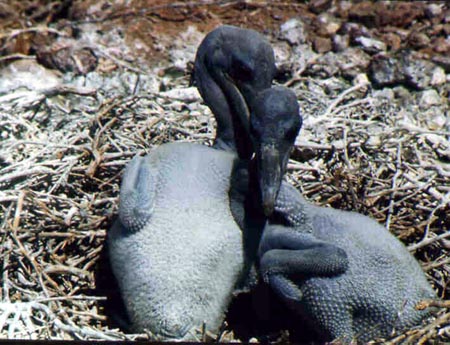 Brown pelicans nest in large colonies, laying their eggs in nests on the ground.  Young pelicans are hatched while very immature, but they grow quickly.  Both parents participate in caring for the young birds.  They can carry tiny fish to feed their babies.  To feed their young, they first swallow the fish and then open their mouths wide so that the young reach way down their parents throats to their gullet.  Juvenile pelicans congregate in creches after leaving the nest.  However, even in these large groups, parents can recognize and feed their own offspring. 
Photo of brown pelican chicks courtesy of Dennis Ancinec
---
In previous years these birds were nearly exterminated as a consequence of pesticides, which killed the pelicans' food and also weakened their egg shells.  Pelicans were also killed in the mistaken belief that they ate fish used for human consumption, but the fish eaten by pelicans are rarely  those species used for human food.  After DDT and other pesticides became more strictly regulated, the birds began to recover.