Special anatomical, physiological
or behavioral adaptations: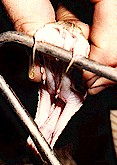 The Western Diamondback rattlesnake is a viper, and the vipers have a pair of long hollow fangs in the upper jaw.  Their poison is sent out through the two teeth.  When the fangs are not being used, they simply fold back into the mouth.  Like shark's teeth, the fangs are continually replaced, with new fangs moving into position about every 60 days.  The venom is primarily hemotoxic, attacking blood vessels, blood cells and the heart.  Snake venoms are derivatives of digestive enzymes and venom injection is as much a process of "tenderizing" the prey as of killing it.  Although about a third of time, the snake bites defensively without injecting any venom, a bite by this particular snake is quite serious and potentially dangerous if medical attention is not sought immediately. 

A snake preparing to strike will gather its body into a defensive coil, from which the upper part of the body can be rapidly extended forward.  The speed of the strike is too fast to be followed by the human eye.  If provoked into striking repeatedly, the snake will begin to tire and move more slowly.  The snake need not be in this position to bite, however; it can strike from any angle, even underwater. 


Strike images courtesy of the
American International Rattlesnake Museum
 
As its name suggests, the diamondback also has the rattle for on the end of the tail.  The sound produced by the rattle is a warning sign indicating that the snake is agitated and may strike; however, rattlesnakes may also strike without a warning rattle.  The rattle is a set of horny pieces loosely joined together,  made from molted skin.  As the snake ages new rattles are formed with each molt, while old rattles fall off. The diamondback will always lift the tail when it sounds.  Some other snakes also vibrate their tails when disturbed, but the sound of the rattle is a dramatic addition to this behavior.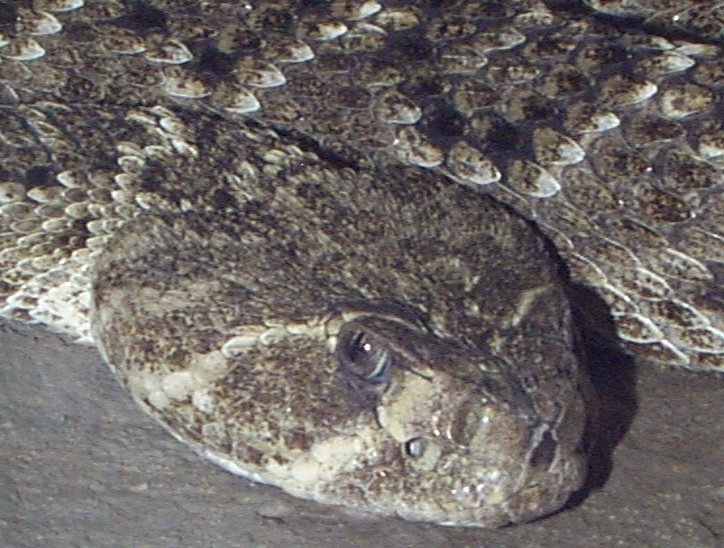 This venomous snake has a pit organ which is in an indentation of the upper jaw between the nostril and the eye.  The pit is about 5 mm deep, with an outer and inner chamber separated by a thin membrane.  The pits are heat sensing organs that help detect warm blooded prey.  Its primary food items are birds and mammals, but it will also eat reptiles and amphibians, invertebrates and an occasional fish.
The snake adjust its activity periods according to temperature, active during the evening in hot weather and during the day when the weather is cooler.