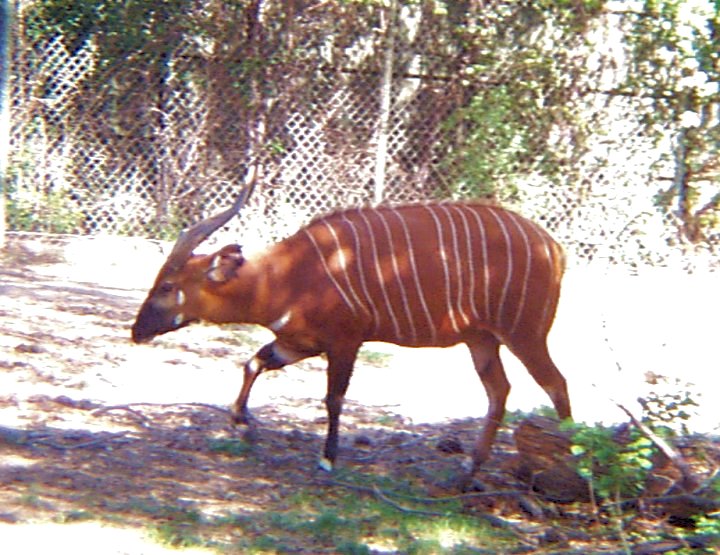 PHYSICAL DESCRIPTION:
Rich, chestnut color coat. Ten to fifteen white-yellow vertical torso stripes. Both sexes have lyre-shaped horns.
INTERESTING INFORMATION:
The bongo is the only Tragelaphid in which both the male and female have horns. Among the various species of antelope in the African Equatorial forrest, Bongos are the largest. They are the only forest antelope to form herds. Bongos are extremely shy, making accurate population estimation difficult.
Bongos are an extremely elusive species. The bulk of information gathered on the Bongo Antelope typically comes from studies requiring captivity . It is known, however, that the Bongo must inhabit close to dense vegetation. Because of this dependency on thick vegetation, destruction of the Bongo habitat is an increasing threat.
The Bongo has a highly advanced social organization. Males tend to be partially solitary, however, females and juveniles typically coexist. Dominance behavior can be observed in multi-male interactions. They possess a wide range of vocalizations. Bongos snort, grunt, moo, and bellow out a "bleat-like" alarm call.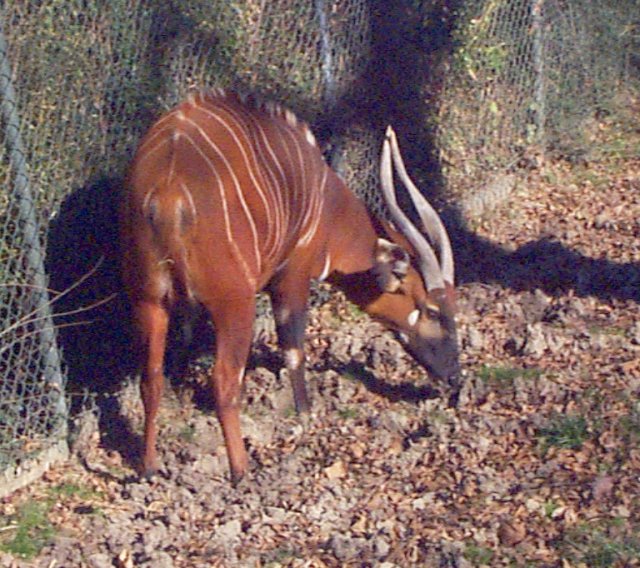 Bongos have a prehensile tongue, making for a helpful feeding apparatus. They also are known to feed on wood that has been burned after lightning storms. This unique behavior may indicate that the Bongo uses the burned wood as a source of salt or minerals.
After birth, calves are temporarily abandoned in the undergrowth by the mother. This may be a protective tactic for the vulnerable calf to avoid predators. Not to worry, the mother returnes periodically to nurse.
Bongos have been observed to hold their horns on the back of the neck when fleeing. This suggests that they are probably preventing getting entangled in the surrounding vegetation. As a result, bare patches of fur are visible on the backs of older Bongos.