More Information about the Northland Green Gecko: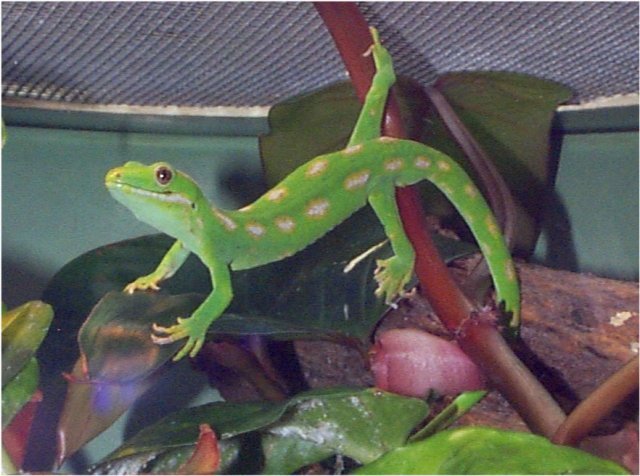 Geckos can reproduce by parthenogenesis (without fertilization) if males are absent. Like other New Zealand geckos, the Northland Green Gecko bears live young, retaining its eggs until the babies have emerged.
Usually two babies are born, and are large -- nearly half the size of the mother. The gestation period is uncertain, as females can retain sperm for an extended period of time before the eggs are fertilized. However most babies are born around April. This species has been successfully bred in captivity.
They feed by creeping up on their insect prey and making a quick grab with their large mouths. Their teeth are small and probably used more for holding on to their prey than for chewing it. In their natural environment, their only serious predators are birds, especially kingfishers. However, introduced predators like cats and rats are a danger to them. Because they are extremely attractive little animals they are also subject to poaching and smuggling.
Like other reptiles, geckos shed their skins, but all in one piece, as a snake does. New Zealand geckos have long lifespans, reaching into several decades for captive animals.