Special anatomical, physiological 
or behavioral adaptations:
The red-crowned crane is named for the red "cap" on top of its head, whch is exposed red skin.  The crane's large size help it resist many different predators. It can also outrun the predators with its speed. The bill of the red-crowned crane is very pointed and sharp, the crane uses it like a spear. The shape of its bill makes it easier to gather food. 
The crane uses very elaborate dances for courting and other cummunication between each other. This dance consists of series of bows, head bobbing, leaps, and various other gestures. They also have a "unison call" between the male and the female before getting into other dance elements.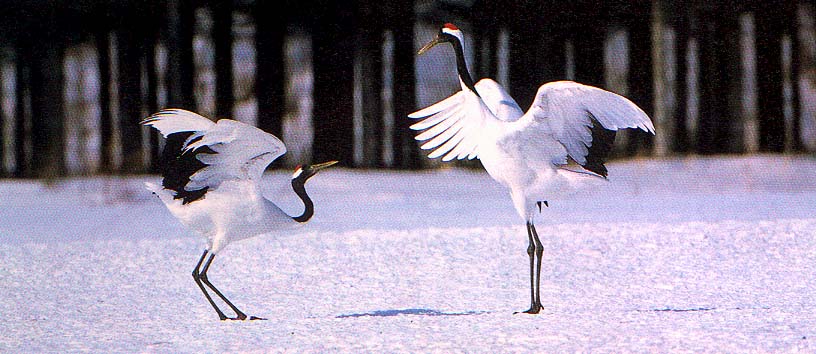 Tancho cranes dance in the snow at Kushiro marsh.  Photo courtesy of the Alpha English Academy.
The red-crowned cranes rub a special oil that is secreted at the top of their tail on their feathers to keep them conditioned. They are excellent flyers that fly long distances during the migratory seasons, they also have large home areas .  The cranes nest and feed in marshes with deep water and will only nest in areas with standing dead vegetation.  The Japanese people consider the red-crowned cranes to be a sign of fidelity in marriage.  The Chinese believe that these cranes are a sign of luck and peace.